Hunslet are in mourning for former player Colin Taylor.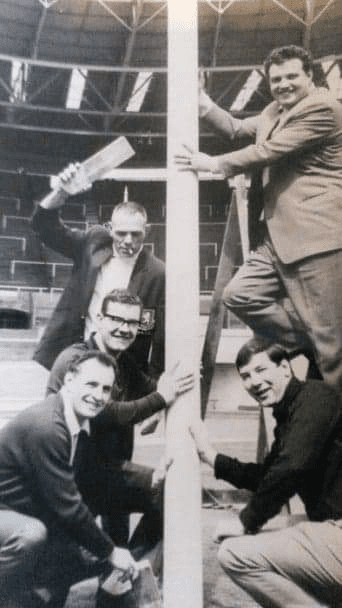 Taylor, who has passed away after a long illness at the age of 84, was a non-playing substitute in the 1965 Challenge Cup Final classic against Wigan, which was lost 20-16. Two years later he was a travelling squad member for Featherstone Rovers, who beat Barrow 17-12 at Wembley.
The second row forward signed for the Parksiders in the spring of 1964, initially on loan from Castleford, against whom he made his Hunslet debut that month, scoring a try in a 12-11 home win on 25 April. His last appearance for the south Leeds outfit was on 25 April 1965, again against Castleford, but this time at Wheldon Road in the Championship play-offs; that match was lost 18-7.
A fortnight after that reverse, on Saturday 8 May 1965, Taylor was on the bench at Wembley, having been named by player/coach Fred Ward on the eve of the game as a substitute in preference to Billy Baldwinson, who had been listed in the Challenge Cup Final programme.
That was the first season in which substitutes had been allowed by the Rugby Football League, but only up to and including half-time and subject to verification of an injury by a qualified doctor. Although that last stipulation was quickly shelved it wasn't until 1970, when Wigan's Cliff Hill replaced Colin Tyrer, that a substitute was used at Wembley.
Taylor, who had played for his hometown club Castleford from 1956, and who also had a stint with Bradford Northern, was transferred by Hunslet to Featherstone in August 1965 for a fee of £600, having scored five tries during his time with the Parksiders. He made his debut for Rovers in the first game of the new season when, ironically, Hunslet provided the opposition at Post Office Road.
On retiring as a player, he had a successful spell as coach of crack amateur team Lock Lane, guiding them to the first round of the Challenge Cup in 1970, when Huddersfield were pushed all the way in a 15-10 defeat at Fartown.
His family stated: "You may have known Colin as landlord at the Lion Hotel in Castleford (1960s), the Magnet Hotel on Pontefract Road, Castleford (1970s), the Masons Arms on Bell Lane in Ackworth (1980s), the Pointer in Castleford and, later, the Star in Filey.
"He was a great team player in Rugby League and in life, and he leaves behind a very proud family who love and miss him deeply."
Colin Taylor's funeral will take place at 10.20am on Thursday 18 August 2022 at Pontefract Crematorium. His life will be celebrated afterwards at the King's Croft Hotel, Wakefield Road, Pontefract.