The heat is intensifying at Hunslet, where several ex-players are banding together in what looks like an increasingly vain attempt to stop former team-mate and self-styled crooner Steve Pryce from performing a virtual concert early next month.
The former prop will be broadcasting in the Parksiders' cause on Saturday 6 June, and a donations page has been set up to help boost the Befred League 1 leaders' coffers during the coronavirus lockdown.
But it's all a bit too much for Richard Baker, David Brook and Mick Coyle, and the rest of the squad of the 90s and early 2000s.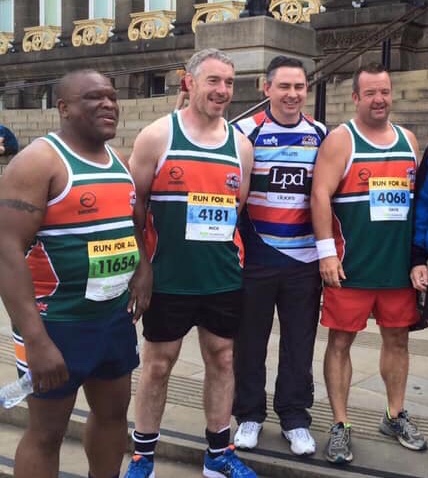 While supportive of Prycey's fund-raising effort, his one-time team-mates retain what they recall as painful memories of him singing after matches and, most miserably, all the way back from games in Cumbria – and a `stop Pricey singing' donations page has been set up to back their cause.
But Stevo has now retaliated in kind. "We used to enjoy end-of-season trips to Blackpool," he said, "when we'd trawl around the pubs and karaoke bars.
"Coyley used to sing the most boring songs, and in the most boring way! The rooms emptied when he started; everyone went to the bar or the toilet! All too often I had to get back on stage to set the mood right again."
Hunslet fans and supporters of other Rugby League clubs and sport in general – or even those who simply care about nurturing and protecting the arts – are invited to get behind either camp.
Those in favour of Stevo singing should visit: https://hunsletrlfc.com/general/hunslet-legend-steve-pryce-to-perform-live-virtual-concert-in-aid-of-the-club/
And those hoping to silence him can visit: https://hunsletrlfc.com/store/stop-stevo-singing/