The Rugby League Record Keepers Club has recently launched its website which is open to all (stats.rugbyleaguerecords.com) writes Martin Stewart.
The site is the only online resource to provide full details of all UK league and cup games from 1996 to date – updated weekly with players' full career statistics from the summer era linked across the various clubs they have played for – and all recognised representative matches played by Northern Union/Great Britain, the Home Nations, Other Nationalities and others.
New countries are being loaded regularly and will soon provide the fullest possible record of all representative games played since 1895.
Recognised internationals have been agreed by the Rugby League International Federation following a review of every known international match and its adherence to strict criteria to achieve `Full International' status.
Hunslet's First Northern Union men
A total of 23 Hunslet players have played for Great Britain or Northern Union, either in Test matches or World Cups, gaining 99 Test Caps between them.
Our first representative was in the very first Northern Union Test Match played against The New Zealand `All Golds' at Headingley, Harry Wilson lining up in the forwards in a 14-6 victory for the home side.
He also turned out at Stamford Bridge, Chelsea two weeks later in the Second Test, where the tourists reversed the result, winning 18-6.
In the Third Test a week later at Cheltenham, Wilson was joined by Billy Batten in the centres in a 5-8 defeat to lose the series 1-2.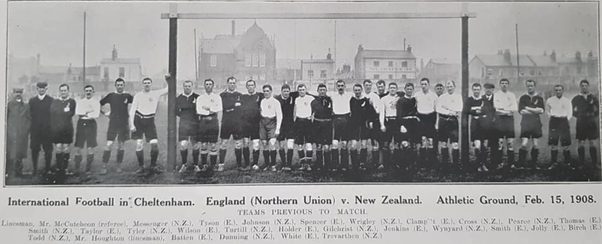 Wilson and Batten are in the picture above. Also, lining up for New Zealand, is Edgar Wrigley who later joined Hunslet after playing for Huddersfield.
The following season saw the first visit to our shores of the Australians; we'll cover this – and our other international heroes – in future articles.