As we celebrate women in sport as part of International Women's Day, writes Pat Benatmane, don't let us forget the many women who have helped behind the scenes from washing the dirty kit when your 12 year old comes home covered in mud, to staffing the turnstiles, and cheering up their partners when their team has lost.
Here's a great picture of ladies who fed the players after matches and doled out the tea and biscuits to Chairmen of visiting teams.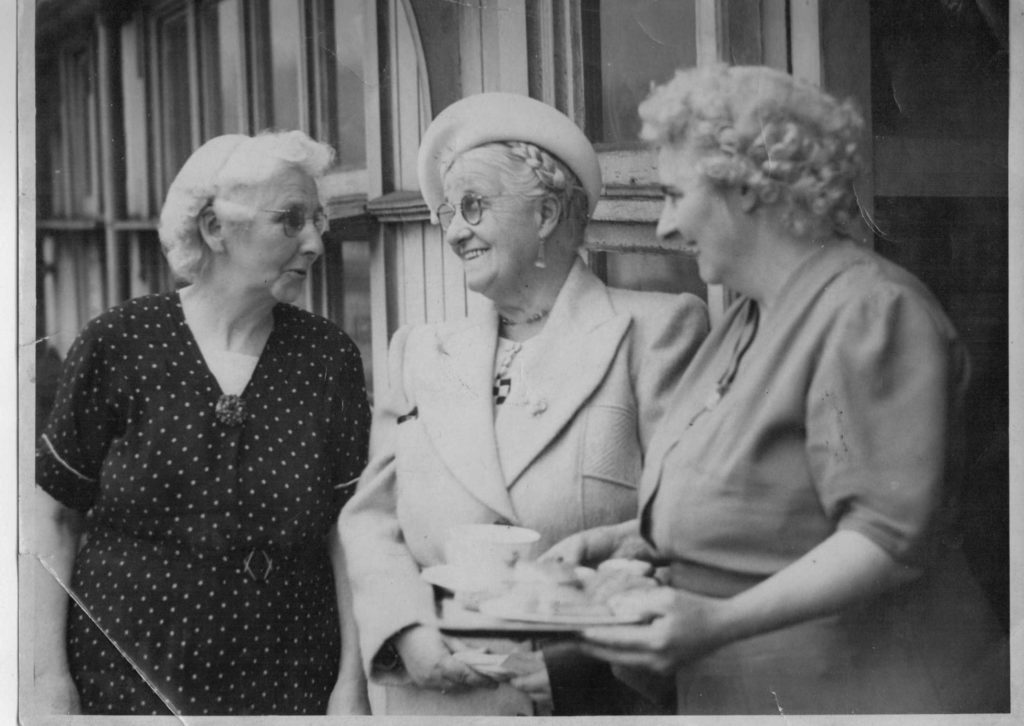 The picture is in about the late 1940s and shows the three ladies having a chat outside the Hunslet refreshments room – possibly the old Pavilion. The lady in the centre, with her plait coiled round her head under her smart hat, is, we think, the Hunslet Chairman's wife, Mrs Richardson. The two flanking ladies have clearly been serving and look like a jolly pair. So although women were not allowed to play Rugby League in the past, let's be proud of the support they gave to the Hunslet club.
Boyd-Ward adopts the red of Wales!
Classy south Leeds-based Wheelchair Rugby League star Jodie-Ann Boyd-Ward has confirmed that she has switched allegiance from England to Wales ahead of the summer's Celtic Cup and the autumn's World Cup.
Jodie, who is no stranger to the pages of South of the River, plays for Leeds Rhinos and qualifies for Wales through heritage under the grandparent rule.
As and when she pulls on a Wales shirt in the Celtic Cup against Ireland and Scotland in Edinburgh in June she will be appearing for her third country. Jodie made her international debut as part of the first ever Irish team at the 2013 Wheelchair World Cup and, following that tournament, has earned 20 England caps.
She was a member of England's historic European Championship-winning squad in 2015 and shared in the joy of inflicting a first-ever home defeat on France at Apt in June 2019.
Jodie, who last featured for England at the 2019 Tri-Nations, has also enjoyed domestic success with the Rhinos as a winning member of their 2018 Super League and 2019 Challenge Cup squad.
She said: "I'm excited to get started on the 2021 international calendar with Wales; I felt that I needed a change and a new challenge in order to get myself into the right frame of mind. The squad has welcomed me with open arms and I'm looking forward to a great future with Wales."
Wales' Head Coach Stephen Jones said: "I am delighted to welcome Jodie to the Wales Wheelchair training squad. She brings a massive amount of knowledge and experience and I am thrilled that she has decided to try out for Wales. It shows how far we have come over the last few years when you have a player of Jodie's calibre willing to leave the England set-up and put her hand up for Wales. I feel that she will fit in with the squad dynamic perfectly, and I'm looking forward to coaching her."
Jodie Boyd-Ward is poised to become the fourth female player to feature for the Welsh national team, following on from Sarah Evans in 2016, Claire Cranston (2017) and, most recently, Lucie Roberts. If she and Roberts are both selected, it will be the first time that two female players will feature in the same Wales Wheelchair Rugby League side.