Hunslet continue to build towards the 2020 Betfred League 1 campaign by confirming that Josh Tonks will be staying at the Club as the second year of his current deal kicks in.
Livewire second row Josh Tonks, who is sponsored by Trevor and Helen Williams, is into the second year of a two-year deal he signed at the start of 2018 and was amongst coach Gary Thornton's leading players during the last couple of seasons.
The free-scoring and hard-tackling backrow man, 28, is determined to play a full part in Hunslet's forthcoming promotion drive and admitted: "I am keen to help complete last year's unfinished business, when we missed out in the play-offs.
"We have a great set of lads at the South Leeds Stadium, while coach Gary Thornton is fantastic to play for.
"Hunslet's a tremendous club, it's a great environment all round and I'm very happy to be here."
Other League 1 sides are already well aware, to their detriment, that Tonks is a threat both in attack and defence and he conceded: "I love tackling and I love to have the ball in my hands.
"I also enjoy working off our halfbacks and scoring tries, and I'm looking forward to linking up with our new signing Dom Brambani.
"I feel that I've got better at running lines and finding gaps as I've got older, learning from experience. I now know, for example, that at my size hitting the line direct from ten metres out doesn't really work!"
Tonks is a product of Castleford Panthers, where he was coached as a junior by the redoubtable Pete Burke and, during his professional career, he has served such as Castleford Tigers, Dewsbury Rams, York City Knights and Keighley Cougars with distinction. He said: "I like to be aggressive, in a controlled way, and that's another attribute I like to think I bring to the cause. And as a senior player I'll hopefully play a role in helping bring on the younger lads, who are full of enthusiasm, along.
"I'm really looking forward to the new season. League 1 – even if we're striving to get out of it – is a tremendous competition to play in, and it's superb to watch. We're working hard in pre-season training, and we can't wait for the action to start with our three home friendlies."
Those games – against Bradford Bulls on Sunday 5 January, Batley Bulldogs (Sunday 12 January) and Leeds Rhinos (Friday 31 January) – represent a mouthwatering schedule before the league season kicks into gear with a trip to Keighley on 16 February.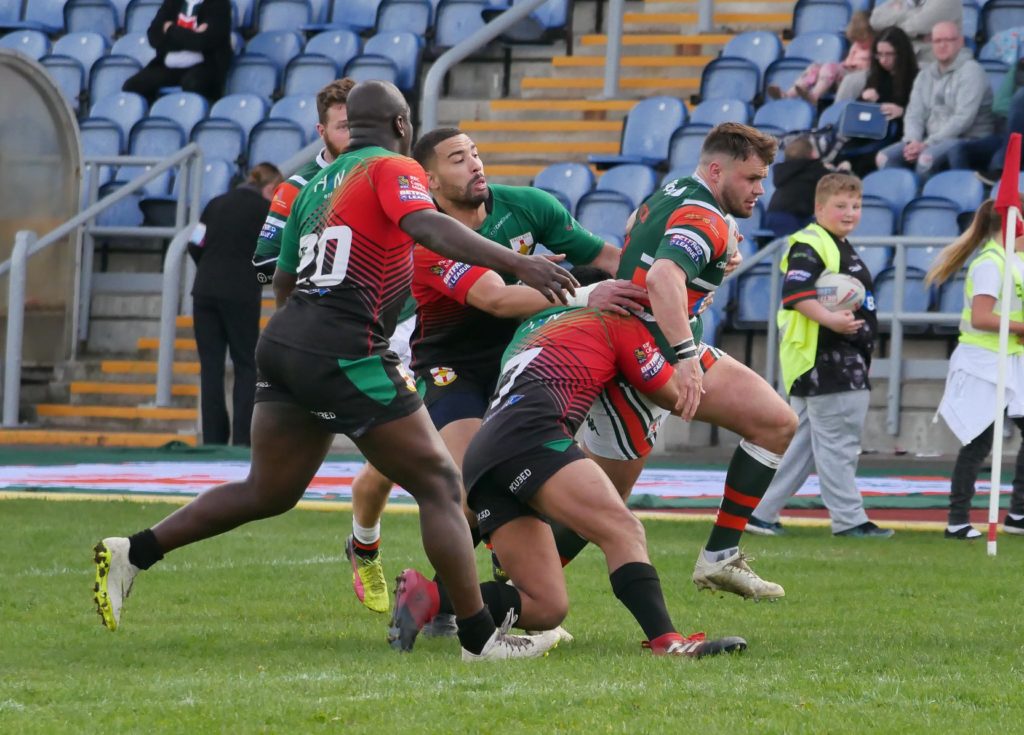 Thornton enthused: "I'm delighted. Josh is a very valuable player to have around, on and off the field.
"He rarely has a poor game and you're guaranteed 100 per cent effort from him.
"He's a very popular player, both within the squad and with our supporters, and he's highly regarded by opposing clubs, which says a lot.
"Josh is a key retention in every way. He wants the ball in his hands all the time and if that doesn't happen he soon lets me – and his half backs! – know about it.
"He's a big left-side threat for us, very much our `go-to' man, and he runs superb lines, which is why he gets over the try-line so regularly."
Thornton, meanwhile, couldn't be happier about how training is going. "I can't remember feeling so good about pre-season preparations in my entire coaching career," he insisted. "We're working the players very hard and they're all really buying into it, which will not only ensure their fitness but will also improve discipline, as they're taking responsibility for working for each other.
"That approach should, in turn, lead to improved discipline on the field of play, with a better understanding that you've just got to get on with it when incidents or decisions go against you."
Hunslet have introduced a number of attractive packages to suit all requirements and budgets, ranging from the recently-launched `Spirit of 73' Geoff Gunney Membership (in homage to the all-time great who helped launch New Hunslet following the sale of Parkside in 1973), which costs from £5 per month, to the £50 per month Frank Watson VIP membership, which secures a season ticket, match-day hospitality and a seat at the directors' table at an away match.
The Graham King Gold Membership, at £26 per month, secures a season ticket and other benefits, while the Mick Coyle Silver Membership (£21 per month) offers a £50 discount off a season ticket, plus benefits.
Hunslet have also pegged season tickets at 2019 prices at £120 (£70 concessions, under 16s free).
All packages can be purchased online here, by ringing 0113 271 2730, or by calling at the club's offices at the South Leeds Stadium.