Hunslet RLFC 36-22 Rochdale Hornets

The return of Hunslet forward Zach Braham from Keighley Cougars inspired the Parksiders to a much needed victory today at the South Leeds Stadium.
The South Leeds club had only won one in four outings so far this season in the Betfred League 1 and languished second from bottom of the table.
But with the return of Braham, full-back Jimmy Watson, new signing Alex Brown and some of the new loanee faces having had time to settle in, Hunslet were always one step ahead of their Lancashire rivals.
Although Sean Penkywicz looked to have scored for Hornets on 7 minutes the referee deemed the ball to have been stolen illegally and moments later swift passing sent Alex Brown over in the corner for his first of the day. Brambani converted and Hunslet lead 6-0 after only 9 minutes.
It was the first Hunslet points in over 130 minutes of Rugby but they registered again five minutes later when Alex Rowe proved too powerful for Rochdale's defence after Hunslet had pressured their line with numerous sets.
Sean Penkywicz has always been a thorn in Hunslet's side and so proved again when on 19 minutes he backed up his own kick to score. 12-6.
Hunslet then turned down three chances to convert penalties opting instead for sustained pressure, nothing came of it, but Hornets forward Fui Fui Moi Moi was penalised for a late tackle and sent to spend ten minutes in the sin-bin.
Whilst Rochdale were down to twelve men Hunslet took advantage. A high kick was spilt by the Lancastrians and the impressive Joe McLean went over from close range. 18-6.
Hunslet would have deserved a twelve point lead at the break, but a couple of line decisions went Rochdale's way and the pressure ended in Declan Sheridan scoring in the corner. So 18-10 at the break and all to play for.
Hunslet had lost Dom Brambani to injury in the first half and now had a new pairing of Jy-mel Coleman and David Gibbons at half back, and it was a superb combination that sent the ball out to Tommy Ashton who flicked a neat pass to Alex Brown for the winger's second of the day. 22-10 after 45 minutes.
Hunslet never managed to shake off Rochdale though, who had lost to Coventry the week before and Lewis Sheridan scored from close range to narrow the scores to 22-16.
A high tackle on Alex Rowe (one of many) right in front of the sticks gave Jy-mel Coleman an opportunity to stretch Hunslet's lead to 8 points (one which he took) on the hour mark and the man himself (Rowe) again proved too powerful for numerous defenders to stretch the home lead to 30-16 five minutes later.
Lewis Sheridan notched up his second try on 75 minutes to give the Hornets some hope of a comeback, but the 8 point gap was always a cushion for Hunslet.
Tommy Ashton and Alex Brown had combined well moments earlier when it looked like the winger had completed a hat-trick, but the touch judge ruled Brown to have stepped in touch, but in the dying moments the highlight of the match came when Tommy Ashton swatted off three defenders like flies to steam roll his way to a well deserved try. Coleman converted on the hooter and Hunslet took the points by 36-22.
Zach Braham picked up Man of the Match for his barnstorming return, but equally Alex Rowe and Joe McLean could have been considered. The left pairing of Tommy Ashton and Alex Brown was particularly effective.
Coach Gary Thornton will be happy the rot has stopped and Hunslet have found a win. With more match fitness under their belts, they will travel to London Skolars next Saturday (12 June) with much renewed confidence.
Teams:
Hunslet RLFC:  Jimmy Watson, Wayne Reittie, Matty Chrimes, Tom Ashton, Alex Brown, Jy-Mel Coleman, Dominic Brambani, Alex Rowe, Nathan Conroy, Zach Braham, Brad Hey, George Senior, Lewis Wray.  Subs: Dave Gibbons Jnr, Jordan Andrade, Joseph McClean Harvey Hallas.
Rochdale Hornets:  Lewis Sheridan, Daniel Nixon, Jordan Syme, Lewis Galbraith, Declan Sheridan, Ryan Forshaw, Daniel Yates, Gavin Bennon, sean Penkywicz, Fui Fui Moi Moi, Joshua Jordan Roberts, Callum Marriott, Zac Baker.  Subs: Callum Ogden, Adam Hesketh, James Connaughton, Luke Fowden.
Referee:  Aaron Moore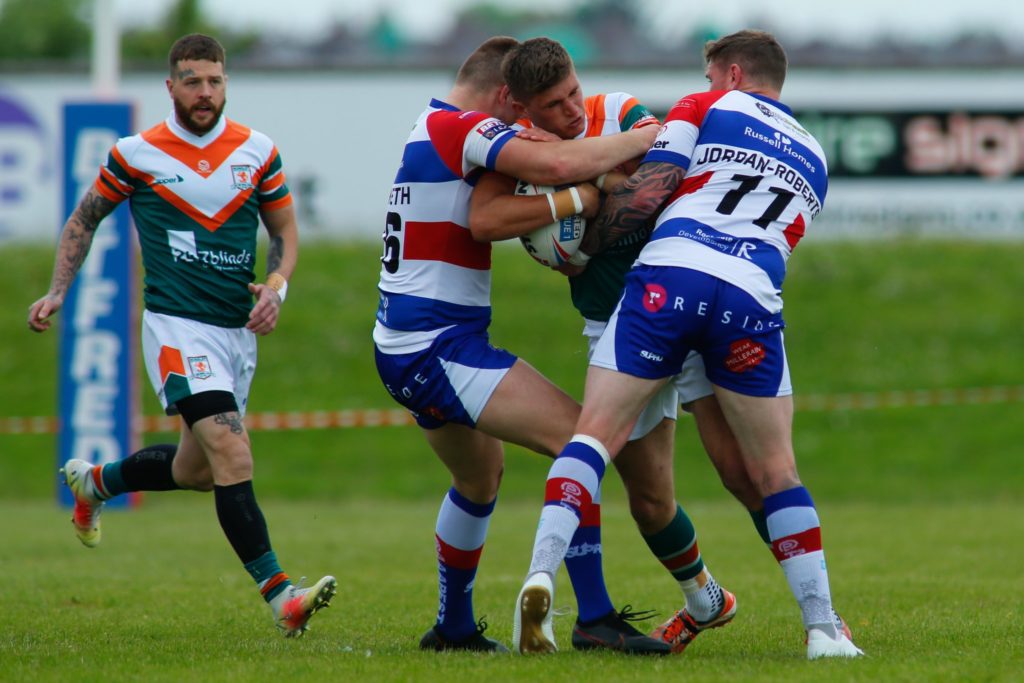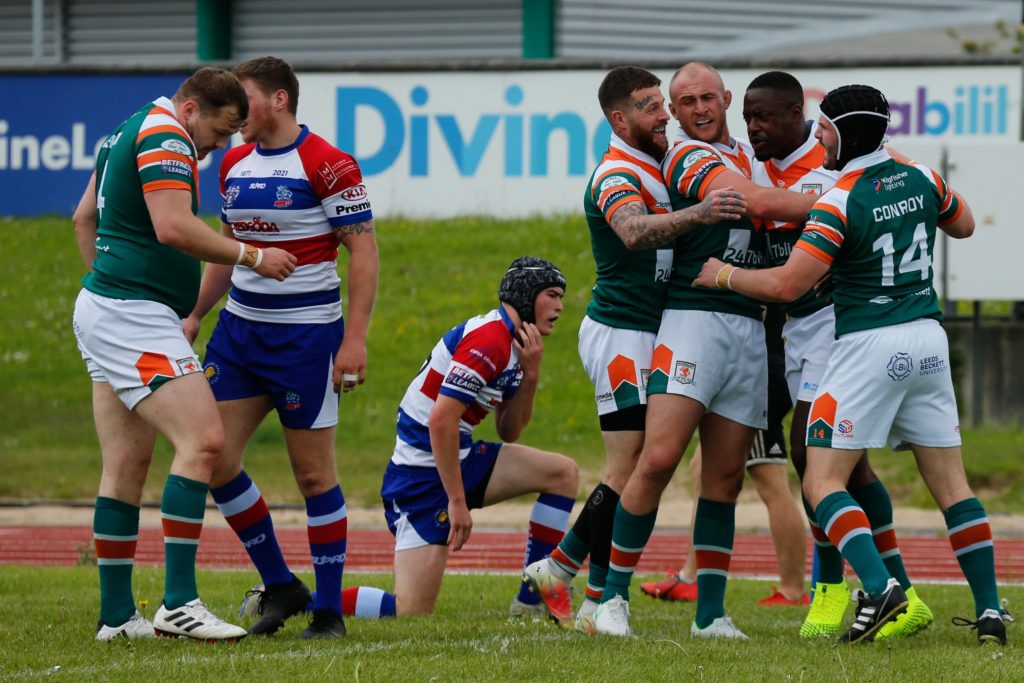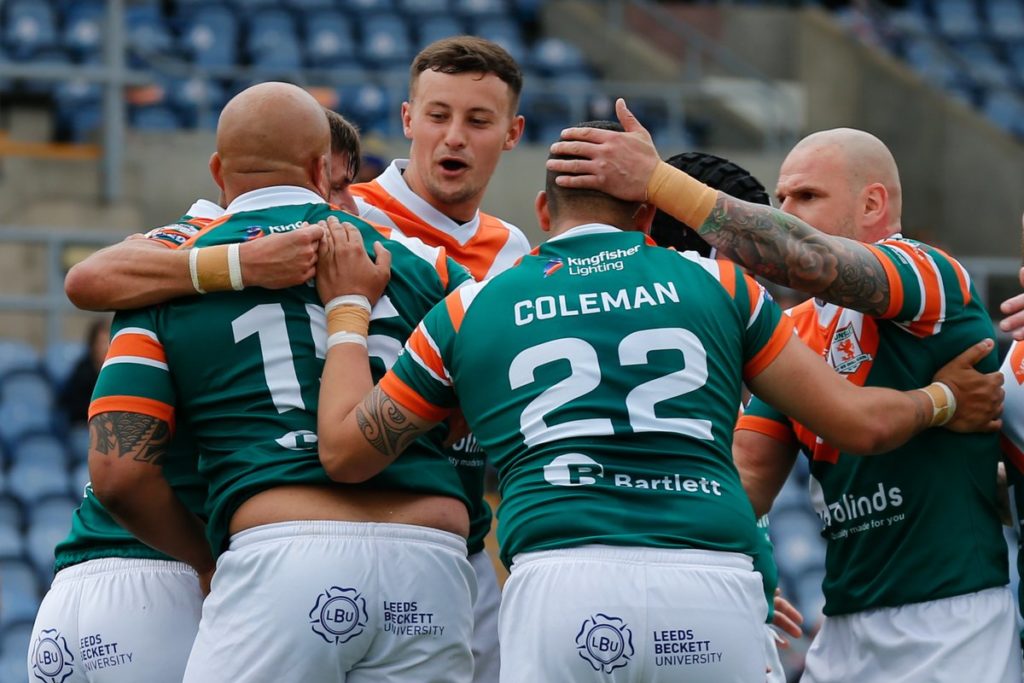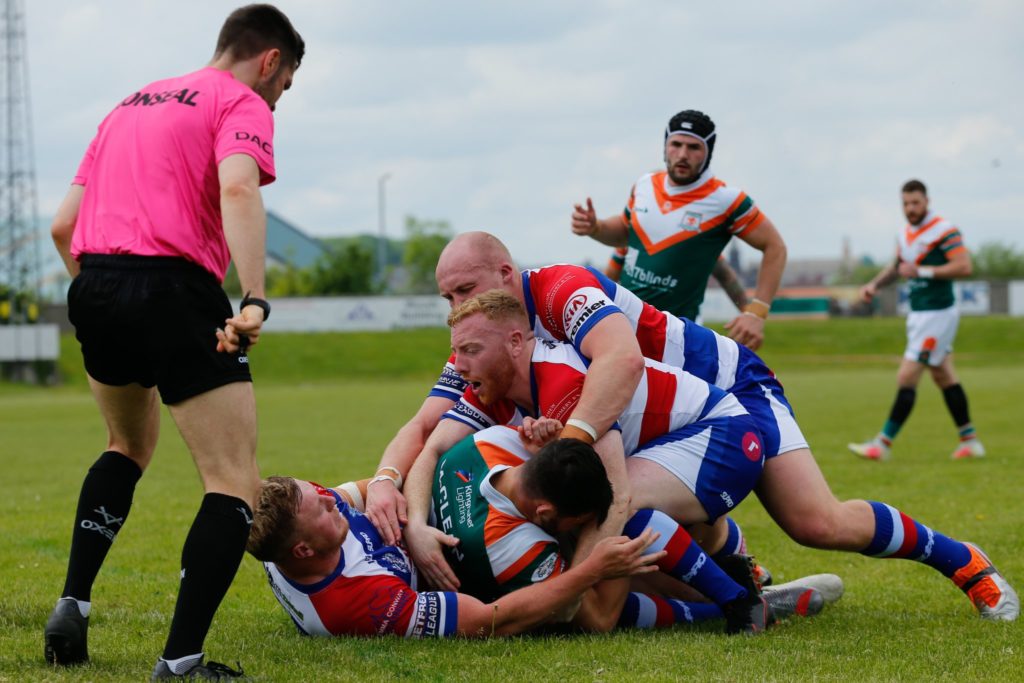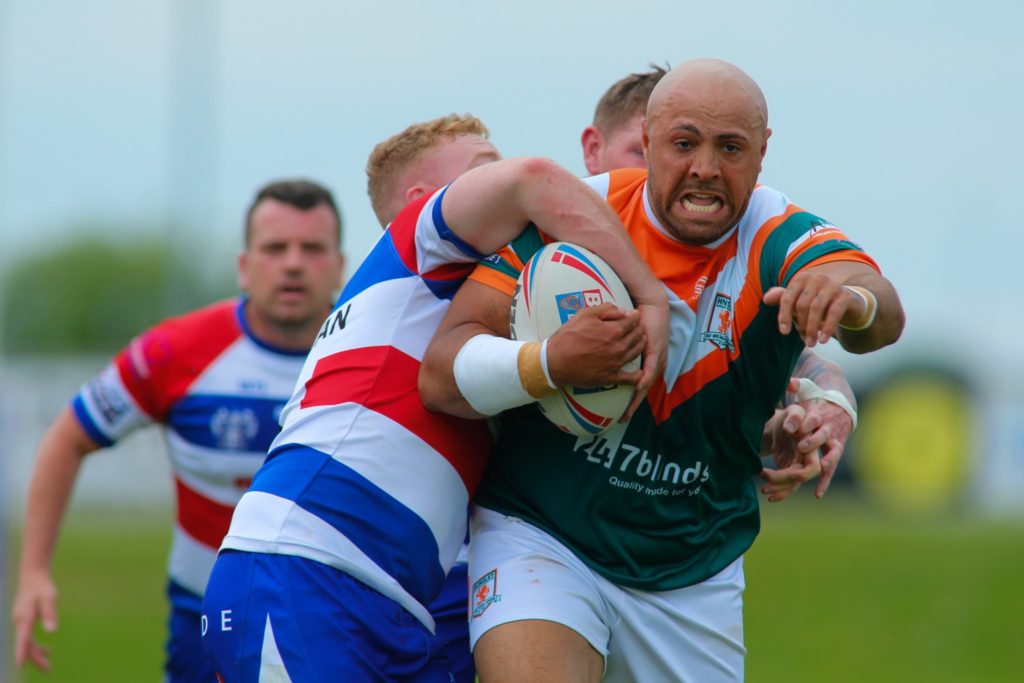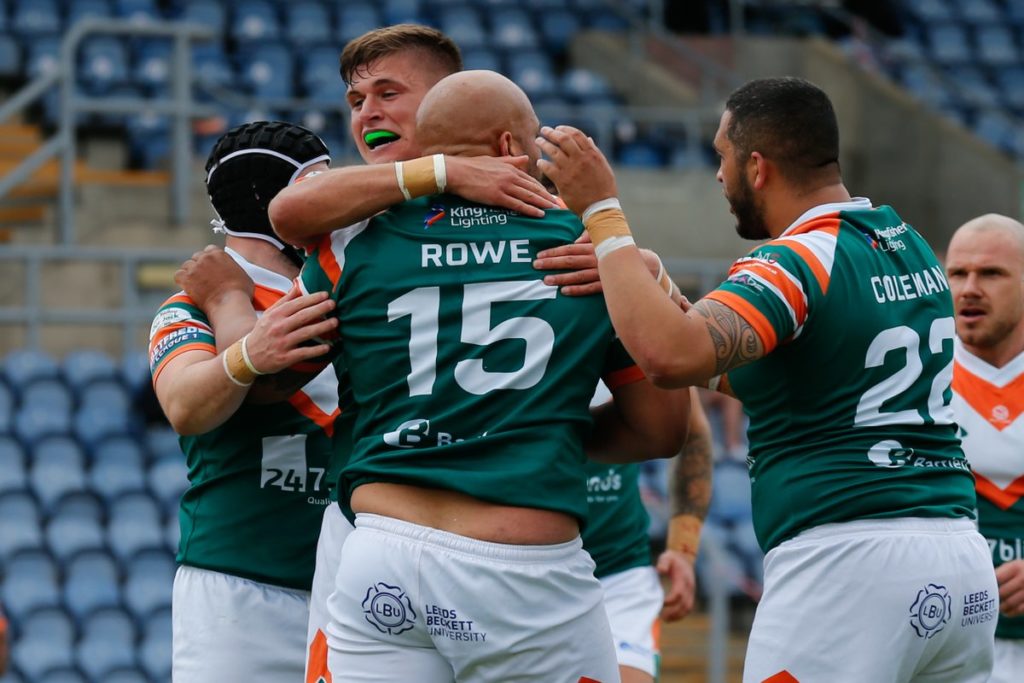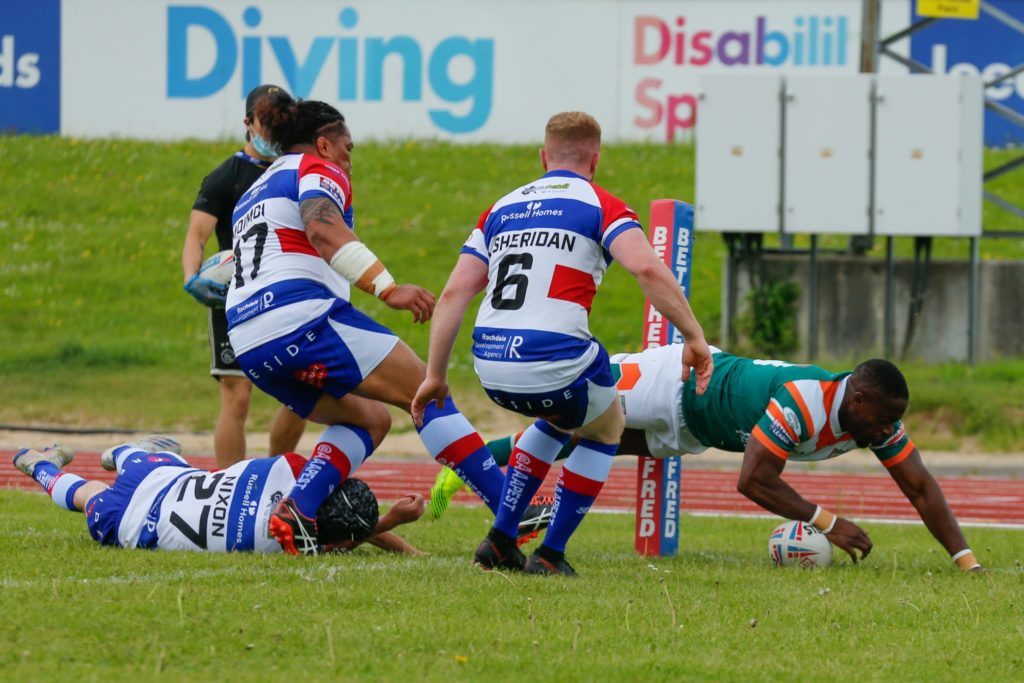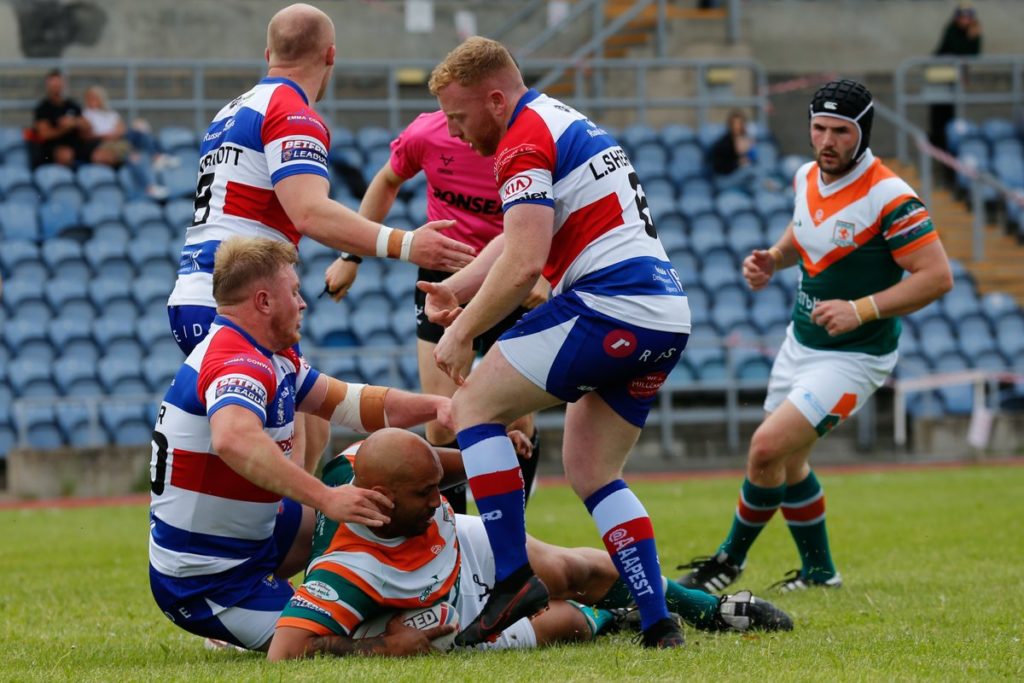 Photos: Stephen Gaunt, Touchlinepics.com