Hunslet RLFC 18-25 North Wales Crusaders

Hunslet's season came to a disappointing conclusion yesterday (17 September 2023) at the South Leeds Stadium as they crashed out of the Play-off semi-final eliminator to an in-form North Wales Crusaders.
The Crusaders (who lost their first seven games of the season) have hit form and have knocked out Workington, Oldham and Hunslet to earn themselves a final next Sunday at Doncaster for a place in the Championship.
The Parksiders meanwhile will be cursing their bad luck, injuries to Harvey Hallas, Lewis Wray and Johnny Campbell didn't help, and with Ollie Burton being re-called by parent club Batley and genial half-back Myles Lawford being ruled out after picking up a facial injury in training at his parent club, Bradford Bulls, some players had to be drafted in, but in the end the hosts weren't good enough on the day and the Crusaders took the win.
From the off things didn't look good for Hunslet as a fumbled pass was hacked on by Crusaders and with the luck of the bounce Rob Massam went on to open the scoring. 0-6 after only one minute.
Crusaders came again, but good defence by Josh Jordan-Roberts halted them before at last Hunslet had a chance to attack. Aaron York found himself in a gap and after good play by Michael Knowles, Jimmy Watson squeezed his way under the posts. 6-6 on only 5 minutes.
Fraser Stroud had been drafted in at scrum half but took a knock on the head trying to field the kick off and played no further part. This seemed to sum up Hunslet who couldn't seem to keep possession. North Wales edged further in front after Hunslet were caught offside, then on 14 minutes a tremendous Owain Abel run meant Matt Reid could score from close in and Crusaders led 6-12.
Luckily Toby Hughes had missed the conversion, so with only a 6 point gap Hunslet came again. Both Knowles and Goddard went close, but the home side were uncharacteristically coughing up possession.
On 23 minutes though, a lung-busting Adam Ryder run set up Matty Beharrell and Joe Burton who put Alfie Goddard over in the corner. Beharrell converting 12-12.
Hunslet were now on top but over-playing as the ball was spilled at crucial moments. On the hooter Crusaders were awarded a penalty for Hunslet being offside and Hughes took the points giving North Wales a 12-14 advantage at the break.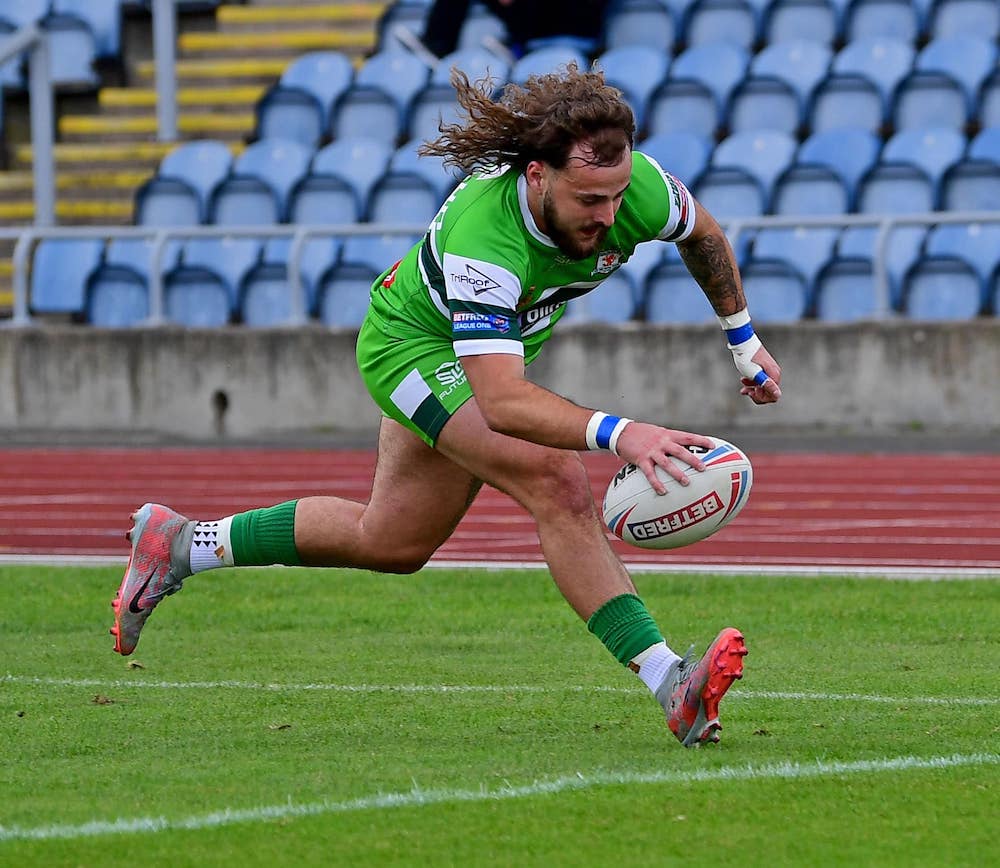 All photos Paul Butterfield
It was going to be a nervy second half and after another Hunslet mistake Crusaders had a chance to attack. Good defence halted them and soon both York and Darley went close for Hunslet in a game now toing and froing.
On 56 minutes came the try of the game as Adam Ryder stepped inside and found a gap to race through and score to at last give Hunslet the lead. 18-14
It was now Hunslet's to lose, and with Captain Steve Crossley running well all looked good, until another error gave Crusaders good field position.
At first Hunslet's defence held, but a quick pass to the right found Kieran Taylor in acres of space to score, but with the conversion missed it was still 18-18 and a let off for Hunslet.
The Parksiders charged towards the Crusaders line and Matty Beharrell had a shot at a one pointer, but he sliced it towards the corner. It turned out to be a good kick, but Hunslet's attackers were not chasing up and Matt Reid had chance to run it out.
The best player on the park had been Crusaders' full-back Owain Abel and he took his chance at a drop-goal well and slotted it over to give Crusaders an 18-19 lead with 7 minutes to go.
Hunslet just couldn't get the break to score and ironically an ex-player in Cole Oakley scored the final try for Crusaders after more good work by Abel. 18-25
It was a cruel way to end such a good season for Hunslet, but maybe weeks off and having to draft in players who hadn't played in a while didn't help. Still, outgoing coach Alan Kilshaw can be proud he has taken the club to their highest finishing position since 2014, and with the sad loss of London Skolars there may be a merging of the lower divisions anyway.
Adam Ryder received player of the match and retiring Captain and prop forward Steve Crossley also had a good game after leading the Parksiders well this season.
Dean Muir will take over a head coach in October as the preparation for next season gets underway.
Hunslet RLFC:  Jimmy Watson, Jack Render, Adam Ryder, Joe Burton, Alfie Goddard, Matty Beharrell, Fraser Stroud, Jordan Bull, Sam Hallas, Steve Crossley, Josh Jordan-Roberts, Aaron York, Michael Knowles, Nathan Conroy, Marcus Green, Spencer Darley, Jordan Syme, Brad Wheeler.
North Wales Crusaders:  Owain Abel, Josh Hughes-Lynch, Keiran Taylor, Matt Reid, Rob Massam, Matt Fletcher, Toby Hughes, Jack Houghton, Jake Burns, Chris Barrett, Ryan Ellis, Cole Oakley, Carl Forster, Patrick Rainford, Callum Hazzard, Shaun Costello, Jordan Andrade, Jack Holmes.
Main photo: Adam Ryder leaves Crusaders' players in his wake as he runs in to score.  Credit: Paul Butterfield