Hunslet have been given a further boost in the build-up to the 2020 Betfred League 1 campaign.
The Parksiders, who confirmed earlier this week that livewire utility man Vila Halafihi has re-signed, can now announce that hard-running prop Zach Braham has also committed to the club.
Braham, 25, has put to pen to paper on a one-year deal after having impressed hugely for Hunslet last season.
The Doncaster Toll Bar product's form was all the more impressive as he had suffered a serious forearm injury in 2018 which would have undermined lesser characters.
He admits: "I'd been in a bit of form when I sustained the injury, so it was a setback. But I was adamant that when I returned I'd play even better than before.
"That spurred me on. It was a nasty injury and I admit I worried about it a bit during the build-up to last season. But once I got back into action on the field of play I was fine."
It can be argued that sportsmen and women are at a peak in their mid-20s, when they are still full of vigour and also have a wealth of experience behind them. Braham sees the logic and reflects: "I do feel that I'm more mature as a player. I've a better understanding, now, of the little things that are so important.
"Something's clicked in me in the last year or so. I've resolved to be more competitive in training, even with myself where I aim to improve every time and be best at everything.
"It's good for team-mates to be competitive in that way with each other; that way the side gets stronger as a whole."
Braham, who is sponsored by Brason Transport, has endeared himself to Hunslet's famously enthusiastic supporters with his unfailingly whole-hearted displays and he reveals: "I'm maybe halfway through my career now, and the realisation's dawned that it won't last forever. I'm five or six years older than some of the younger lads and perhaps because of that I try to lead by example.
"There's a tremendous spirit at Hunslet and despite having good offers from elsewhere I had no issues about renewing my contract.
"A big reason was the staff at the South Leeds Stadium; I owe a lot to them all, especially our Head Coach Gary Thornton and our Football Manager Darren Williams.
"I'm also indebted to our fans, who really do make a difference. One of our best wins last season was early on, at Doncaster, and the supporters played a huge part in that victory. Their backing was relentless, it spurred us all on, and that momentum went a long way to us coming out on top.
"And the players are like brothers, there's truly a very special feeling in our squad. We're all determined to achieve promotion next year after having missed out last season and, like the rest of the lads, I'll be giving everything I can and wearing my shirt with pride as we bid to go up."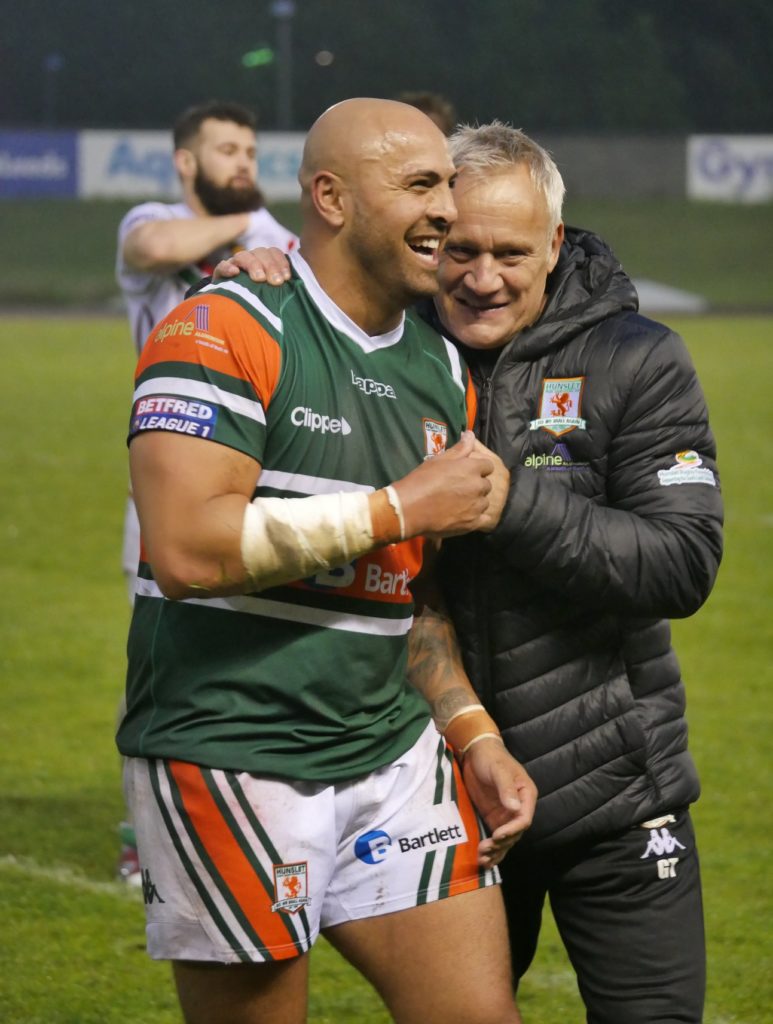 Thornton adds: "Zach came back from a nasty break in his forearm to have a superb season, deservedly winning the Most Improved Player award.
"As the season progressed and his fitness levels improved he became a cornerstone of our pack and earned the respect of his fellow team mates and the opposition.
"With several of last year's senior pack members retiring a lot of responsibility will be on Zach to become a leader in what will be a young team in 2020, but already in pre-season I have seen signs of him developing this part of his game.
"He has matured and he has recognised the need for the hard graft and never to cut corners. I've sat down with him and set some challenging targets for him next season, and he personally is expecting a big season.
"He is already working on the extras in training, is at the front of most of our conditioning drills, and is setting a marker down for the rest of the forwards.
"If he can stay injury free, I anticipate another good season for him. I'm delighted to have retained two of our best players from last season in Vila Halafihi and Zac.
"Like Vila, he is a very popular member of our group with a big personality.
"It was very important to get them both signed. They both had plenty of interest from other clubs and we had to fight to keep them but they love being at Hunslet and are desperate to help us improve on last season.
"They are both brilliant to work with and I am delighted they have signed for another year – they will play major roles for us next year."
Hunslet are offering a range of membership packages to suit all budgets, ranging from the recently-launched `Spirit of 73' Geoff Gunney Membership (in homage to the all-time great who helped launch New Hunslet following the sale of Parkside in 1973), which costs from £5 per month, to the £50 per month Frank Watson VIP membership, which secures a season ticket, match-day hospitality and a seat at the directors' table at an away match.