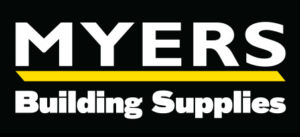 Hunslet RLFC are delighted to welcome on board Myers Building Supplies as a commercial partner of the club.
Myers Building Supplies are part of the Myers Group and have been supplying building materials throughout Yorkshire since 1929 and now employ approximately 350 people.
The Myers Group is a fourth generation owned group of companies and pride themselves as being 'made for trade, open for all' supplying local businesses and tradesmen as well as the general public.
Myers Building Supplies now has 14 branches in the region and will be sponsoring Hunslet RLFC player Dan Hawksworth who is an employee of Myers Building Supplies.
Paul Taylor, Chief Commercial Officer of Hunslet RLFC said "Myers Building Supplies have a fantastic reputation in the region and we are pleased to welcome them to the Hunslet RLFC family.
We are looking forward to welcoming them in 2019 to cheer on Dan and would like to the thank Myers Building Supplies for their support."
Dan Simpson, Branch Manager at Leeds based on Selby Road said "We would like to wish Dan all the best at Hunslet RLFC for the 2019 season. We are keen to support the local community and sponsoring Dan was a natural fit."