Papua New Guinea's players, coaches and management staff, who will be based in Leeds for the duration of next year's Women's World Cup, can count on a warm welcome at Hunslet.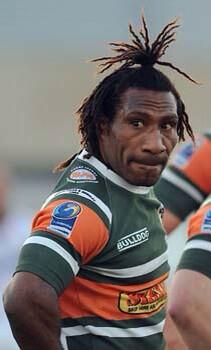 Training sites have yet to be confirmed for participating sides but it's likely that Hunslet's well-appointed South Leeds Stadium will be used by one or two – possibly even all – of the four countries that will be housed in the city, with the men's teams of Ireland and Jamaica, together with Women's World Cup hopefuls PNG, Brazil, Canada and hosts England, all due to enjoy Yorkshire hospitality.
Hunslet will be keen to regale the Papua New Guinea women's squad with happy memories of the contribution made a decade or so ago by three PNG men's internationals who, in a move facilitated by the legendary Stanley Gene, spent the 2009 and 2010 seasons with the club, which was then known as Hunslet Hawks.
The trio – winger Michael Marks, prop Nico Slain and hooker Charlie Wabo – were, in fact, pivotal to the Hawks topping Championship 1 in 2010.
Slain and Wabo had already featured in the 2008 World Cup while Mark made the most of his experiences at Hunslet, making his international debut in the 2010 Four Nations in Australia and New Zealand.