Hunslet RLFC 28-8 Doncaster RLFC

Stand-off Matty Beharrell inspired Hunslet to victory yesterday (2 July 2023) against his former club Doncaster. But it was a complete team performance with the Parksiders' defence looking impregnable that will surely please coach Alan Kilshaw.
The Dons (who had only lost one from twelve matches and were lying second in the Betfred League 1 table with Hunslet  behind them in fourth) were welcoming back star player Watson Boas who had not played at all this season.
The early exchanges were fairly even. Doncaster found a gap but knocked on with the line beckoning, and Beharrell placed a nice kick for on-loan winger Jake Maizen but the bounce went against him.
The Parksiders took the lead on the 11th minute when another former Don, Aaron York, won a penalty and from the good field position Harvey Hallas showed his strength to power over for a try. 6-0
Hunslet now got in the ascendancy with Beharrell's accurate kicking punishing Doncaster. Jack Render was proving a handful for the visitors and an excellent move sent Jake Maizen close before he was bundled into touch.
The Dons hit back and Bradley Knowles was inches away from scoring before Jack Render saved a certain try. Former Hunslet man Brad Hey was having an excellent game and was held up by good defence from Adam Ryder.
On 22 minutes another on-loan player Myles Lawford lit the game up with a jinking run through the Dons defence to give Hunslet a 12-0 lead after Beharrell had won a penalty for the Parksiders.
Shell-shocked Doncaster were hit again on 25 minutes with a controversial try as Beharrell's kick ping ponged around before Lawford picked up the loose ball and fed Jack Render who was too strong and scored in the corner. No conversion but Hunslet led 16-0.
The game got feisty on the half hour mark when Josh Jordan-Roberts and Sam Smeaton were sin-binned for fighting. Jordan-Roberts had been immense for Hunslet and the loss of his presence helped the Dons register two quick tries before the break. First some good hands sent Brad Hey over and then after a Hunslet knock-on Misi Taulapapa sprinted in for a try. Neither were converted and Hunslet led 16-8 at the break.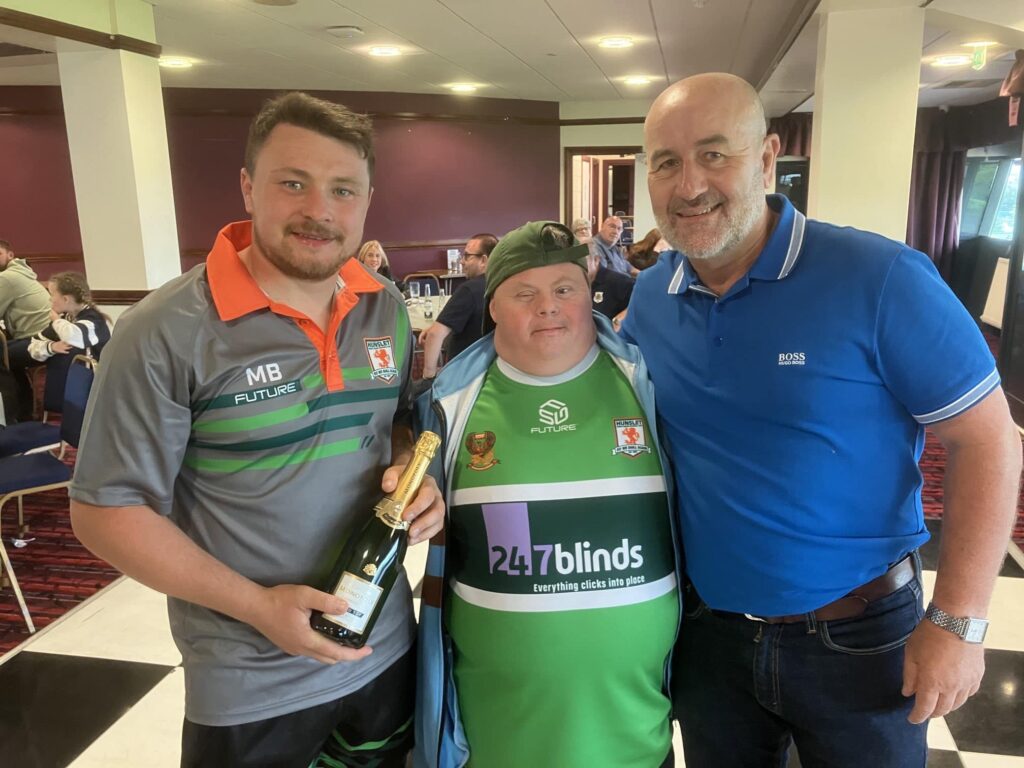 Both teams back to 13 men, Hunslet started the second half well as both Beharrell and Ollie Burton went close, but on 49 minutes Jack Render scored one of his specials, plucking a Myles Lawford kick out of the air to score in the corner. 20-8
Josh Jordan-Roberts was again showing his presence and thought he had scored, but the Beharrell pass was forward. Although Hunslet were attacking well they needed to be alert in defence as a Dons kick held up near the dead ball line, Jimmy Watson read it, retrieved it and sidestepped the oncoming attackers before passing to Jack Render who ran clear.
A Beharrell 40/20 set up good field position and moments later a high tackle on the lively half-back gave him a chance to tag 2 more points onto the Hunslet lead. 22-8 with an hour played.
It was now or never really for Doncaster who restarted with a short kick-off. Jake Maizen halted a Dons attack after they went blind side and Jack Render took a weirdly bouncing ball.
Hunslet made a few mistakes though and turned the ball over to Doncaster putting pressure on themselves. Maizen cleared his lines well and in an attacking position Lawford put a kick in but it was far too strong.
It was now Doncaster who had to throw caution to the wind, but at times they looked unorganised and shell-shocked. It looked like they had found a gap in the Hunslet defence but the ref pulled them back for obstruction. Brad Hey had been Doncaster's best player and again was held up over the line, meanwhile for Hunslet, Jack Render had been immense in defence.
On 78 minutes the game was put to bed when Myles Lawford picked up a loose Doncaster pass and sprinted the 60 yards to score under the posts to the delight of the home faithful. Beharrell converting 28-8
As the hooter sounded both teams tried to grab a last try, as Joe Burton and Render combined for Hunslet and looked to be on to score, the ball went to ground and Doncaster then tried to score themselves but a last ditch tackle stopped them.
Hunslet move up to third in the Betfred League 1 table with this victory, but now must surely be taken seriously as promotion contenders. Matty Beharrell received the Sponsors Man of the Match being constantly a thorn in Doncaster's side and Jack Render the Phoenix Bar Supporters Man of the Match, but there were also notable performances from Myles Lawford, Josh Jordan-Roberts and Lewis Wray.
Hunslet travel to Derby next Sunday (9 July 2023) to play Midlands Hurricanes who surely will not be taken lightly after they pushed league leaders Dewsbury all the way yesterday, only losing 23-28.
Teams
Hunslet RLFC:  Jimmy Watson, Jack Render, Adam Ryder, Joe Burton, Jake Maizen, Matty Beharrell, Myles Lawford, Harvey Hallas, Sam Hallas, Steve Crossley, Josh Jordan-Roberts, Aaron York, Michael Knowles. Interchanges: Ollie Burton, Lewis Wray, Marcus Green, Spencer Darley. 18th Player: Alfie Goddard.
Doncaster RLFC:  Josh Guzdek, Tom Halliday, Sam Smeaton, Brad Hey, Misi Taulapapa, Watson Boas, Connor Robinson, Luke Cooper, Greg Burns, Keelan Foster, Brett Ferres, Loui McConnell, Brad Knowles.  Interchanges: Matthew James, Jose Kenga, Dean Roberts, Ross Whitmore. 18th Player: Aaron Ollett-Hobson.
Main Photo: Jack Render brings in Myles Lawton's kick to score (Paul Butterfield)