Vila Halafihi, who has re-signed for Hunslet on a one-year deal, had no hesitation in putting pen to paper.
The 25-year-old utility man, who is sponsored by Springwater School, Harrogate, can operate effectively at hooker, loose forward, halfback or in the second row and was the Betfred League 1 outfit's Player of the Year and Coach's Player of the Year last season.
He said: "I had a good year personally and a reason for that was that Head Coach Gary Thornton gave me plenty of game-time, which I hadn't really enjoyed at my previous clubs.
"I was a much better player through having regular rugby and playing every week, sometimes operating at hooker and loose forward in the same match. That helped me find myself as a player, and it's one of the factors that persuaded me to stay.
"The fact that GT and his coaching staff showed such faith in me was another, although I appreciate that I'll have to show good form to earn a place in the side next year; we've signed a number of good young players and selection isn't guaranteed for anybody."
Halafihi, while preferring the hooking role, is happy to play anywhere for the cause but he enjoys sharing the dummy-half role with the experienced Jack Lee, who generally takes on the role in the opening exchanges. "Jack is a smart guy," he said, "and offers a lot in the early stages. I like to run a bit more, so we complement each other very well.
"We get plenty of great advice, too, from the sidelines, not only from GT but from his fellow coaches. Mark Cass who, as a former hooker himself at Batley, gives me loads of tips (and some terrible jokes, to be honest!) and Gary Barnett also has a massive input.
"Our coaches have bags of experience and know what it's all about. Under their guidance we'll be aiming to push for promotion after not really fulfilling our potential last year.
"It's a hard division to get out of but obviously if we can crack last year's poor home form we'll be very much in the mix. It was good to get the personal awards last year but I'd have swapped them for gaining promotion, and that's got to be the target in 2020."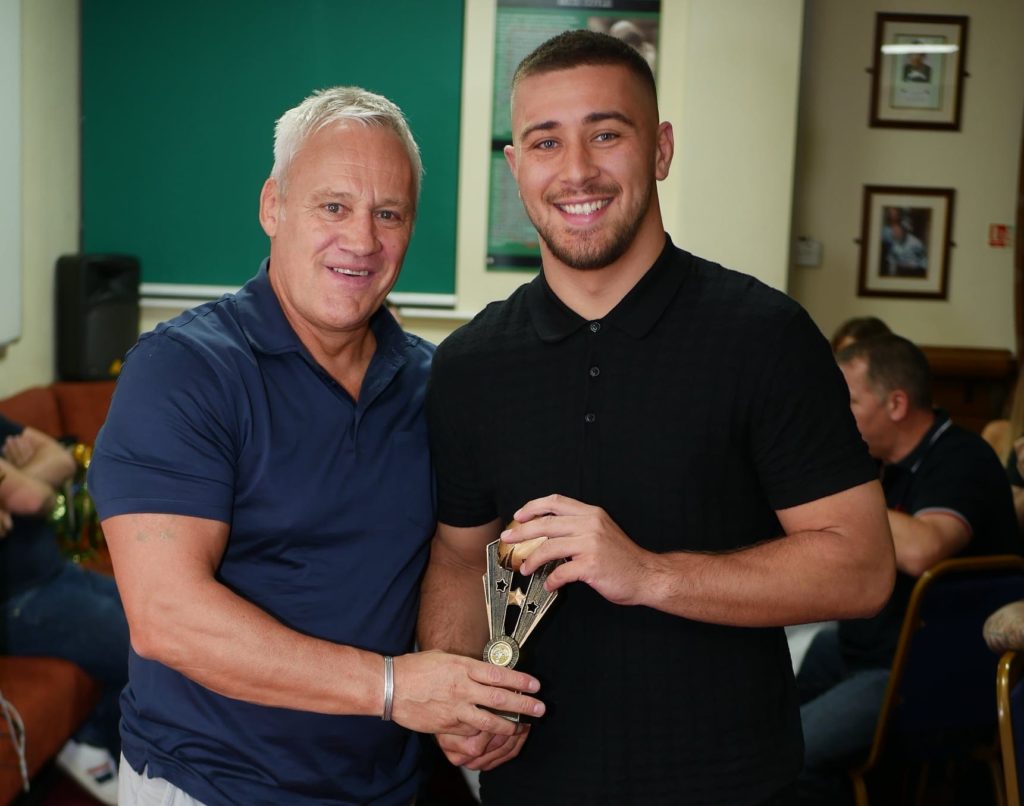 Thornton added: "The fact that Vila won the Players' and Coaches' awards speaks volumes on how highly rated and respected he is by his fellow players and his coaches.
"He was superb at hooker and equally good when he had to move to loose forward to cover injuries.
"He really enjoyed his full first season with us and getting regular game time has helped develop him into an established and respected first team player.
"I'm looking forward to seeing him grow even further and, with his enthusiasm and his desire to be the best he can, he will stand up to become one of our senior players at still a young age., and that has such a positive effect on the other guys."
Hunslet are offering a range of membership packages to suit all budgets, ranging from the recently-launched `Spirit of 73' Geoff Gunney Membership (in homage to the all-time great who helped launch New Hunslet following the sale of Parkside in 1973), which costs from £5 per month, to the £50 per month Frank Watson VIP membership, which secures a season ticket, match-day hospitality and a seat at the directors' table at an away match.