Hunslet's astute Head Coach Gary Thornton is delighted to have snapped up Harvey Hallas.
The young prop, who is sponsored by Alan Stephenson, has fetched up at the South Leeds Stadium on a one-year deal after having spent last season with Dewsbury Rams and, in a loan spell, at Keighley. And he has become a Parksider thanks to Thornton being ready to bide his time.
The Hunslet boss revealed: "Harvey is a bright young prospect and someone we have kept an eye on over the past couple of seasons.
"I have been aware of him since he left Wakefield Academy a couple of seasons ago, when he probably wasn't quite ready for League 1.
"He signed at Dewsbury last season and found game-time difficult to come by, so spent some time on loan at Keighley.
"But he is now developing into a promising front rower at League 1 level, having got that experience under his belt.
"He doesn't fit the mould of the old fashioned prop forward, but is more geared to the modern game. With only eight interchanges available we need our front rowers to be able to do long minutes – and to be physically fit enough to do that in the most physically demanding of positions."
Hallas admitted: "I've played against Hunslet a few times in the last few years and I've always been impressed by their big and fearsome middles, typified by Zach Braham, who runs hard and straight.
"I'm similar. My game's about leg speed, hard drives and making yardage. You don't get many frills from me, I leave the ball-handling skills to the backs!"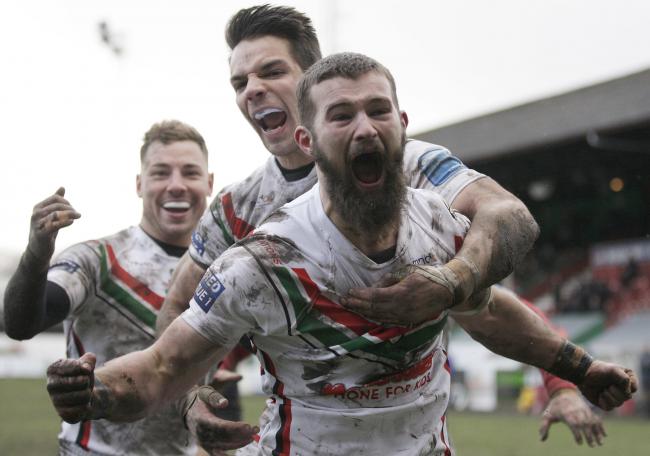 Hallas, who first tasted Rugby League as a five-year-old at Oulton, later moved on to Normanton where he came under the wing of Richard Slater, who recommended him to Thornton. "Nothing came of that but my name must have registered with GT and, down the line, I've eventually joined up with him," said the 22-year-old, who reflected: "My season never quite got going in 2019. I had shoulder surgery last December and that put me back a bit at Dewsbury.
"But I'm hungry for week-in, week-out rugby, which should help my game develop, and I'm also hungry to come up against the bigger blokes and give them a run for their money."
Thornton concluded: "Harvey has loads of energy and has shown up well in all our fitness drills so far. I know he is hoping to prove people wrong from previous clubs he has been at, and I'm confident he can deliver at this level."