Hunslet have confirmed the signing from Batley Bulldogs of experienced and dynamic halfback Dom Brambani.
Italian international Brambani (34) was born in Bradford and has previously played at Super League outfit Castleford Tigers, followed by stints with Halifax, Sheffield Eagles (twice) and Dewsbury Rams.
Brambani, who joined Batley in 2016, captained Great Britain Students on the 2003 tour of Australia and on returning to that country shone for Hinterland Storm, with whom he was voted Gold Coast Player of the Year.
He said: "Hunslet's a great club. I spoke to their Football Manager Darren Williams a few times and was very impressed.
"It's the right time in my career to take on a new challenge; a fresh start at a different club has already given me a new lease of life.
"There's a lot of young lads at Hunslet and one of my roles is to help bring them on – I've played in the Championship for a long time and I aim to give them the benefit of my 15 years' experience. I'll be talking to players on the field, organising and guiding them around and hopefully helping bring the club some success."
Brambani continued: "The vibes at Hunslet are fantastic. They're a similar club to Batley, with plenty of enthusiastic volunteers.
"The Bulldogs made my family and me very welcome when I joined them four years ago and it's been just the same at the South Leeds Stadium. I'm feeling very enthusiastic about helping us gain promotion from the Betfred League 1 and consolidate in the Championship."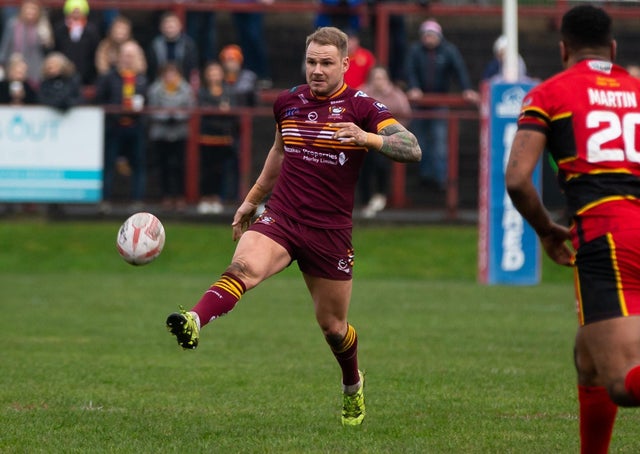 Head Coach Gary Thornton enthused: "This is a major signing for us. Dom is so well respected within the game at Championship level and has played at the top end of the section with clubs like Sheffield, Dewsbury and Batley.
"He brings with him vast experience and enthusiasm and will be an integral part of running our game-plan.
"Already in pre-season I have seen the qualities he will bring to the group. Incredibly fit, he has clearly looked after himself physically over the years and still works as hard as he did when he first broke into first team football.
"It has such a positive effect on the other guys to see a senior professional still working so hard. Getting the spine of the team right has always been a priority and this is another vital cog in that pivotal area of the team."
He continued: "Dom's decision making, his kicking game and his defence will all be huge assets for us but it's his ability to manage a game-plan that will give us the biggest benefit.
"It's fair to say we struggled in this area last season for various reasons, so it was always a priority. His enthusiasm will be infectious to the rest of the group and his voice in the changing rooms will also help. I'm really excited about the impact Dom will have on our group next season."
Dom will be sponsored by the Bob Inn
A range of membership packages are on offer to suit all budgets, ranging from the recently-launched `Spirit of 73' Geoff Gunney Membership (in homage to the all-time great who helped launch New Hunslet following the sale of Parkside in 1973), which costs from £5 per month, to the £50 per month Frank Watson VIP membership, which secures a season ticket, match-day hospitality and a seat at the directors' table at an away match.
The Graham King Gold Membership, at £26 per month, secures a season ticket and other benefits, while the Mick Coyle Silver Membership (£21 per month) offers a £50 discount off a season ticket, plus benefits.
Hunslet have also pegged season tickets at 2019 prices at £120 (£70 concessions, under 16s free).
All packages can be purchased on-line by clicking here, by ringing 0113 271 2730, or by calling at the club's offices at the South Leeds Stadium.