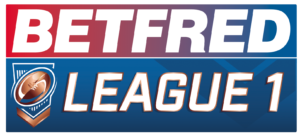 Hunslet RLFC started a Bank Holiday Weekend double with a shock defeat to struggling Keighley Cougars. The Cougars on the back of three defeats certainly didn't look like the out of form side and thoroughly deserved their win.
After a brave performance at Odsal last week against Bradford Bulls and the postponed cup game to look forward to on Monday, Hunslet got off to a flying start.
Dominating from the off it was no surprise Hunslet scored first, when a devastating move involving Mackay and Watson sent Joe Sanderson in for the opener. Five minutes later Sanderson's beautiful floated pass sent Nathan Chappell over and at 12-0 it looked like a long afternoon for the Cougars and an enjoyable one for Hunslet fans.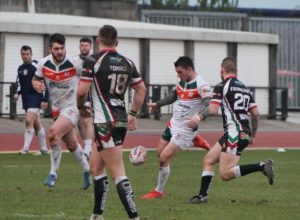 It was Hunslet's discipline that turned the tide and on the back of 2 penalties Fairhurst dummied his way over for Keighley. This seemed to flick a switch in the Cougars and suddenly it was they who started playing the flowing Rugby.
Good hands put Wright over, before hooker Conroy went in from close range after Hunslet had made the cardinal error of knocking on from a 20 metre tap.
Brad Nicholson, brother of Hunslet's Matt Nicholson extended Keighley's lead to 12-24 (all goal kicks successful) on the half time hooter after Hunslet had failed to diffuse an attempted drop goal.
Half Time – Hunslet 12-24 Keighley
The half time talk seemed to spur on the home side and only 3 minutes into the second period Jimmy Watson sneaked over after a Muffy Mvadudu drive. Joe Sanderson's kick just fell short and the gap was still 8 points.
Again though the Hunslet defence was poor as Conroy scored from close range for Keighley, and although after a high tackle on Dee Foggin-Johnston, Lewis Reed forced his way over it was clear the gap may be too great for Hunslet to close.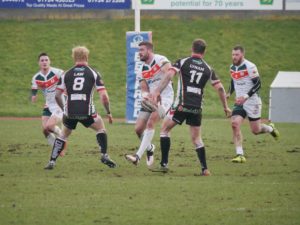 The gamebreaker though came on 60 minutes when Hunslet were awarded a scrum near to the Cougars line. A try at this point may have turned the tide, but Hunslet lacked organisation and leadership and trying to force a try Keighley intercepted and raced up the field. Clever hands put Ryder in the left corner and at 22-36 the game was out of reach for Hunslet.
Chances fell to both sides in the remaining minutes, but aside from a Keighley penalty no points were registered.
A disappointing afternoon then for the home side, Keighley came and had a go and Hunslet didn't have the passion or leadership to match them. A better performance in the cup on Monday to Bradford will help, but the following week at Oldham is where Hunslet's mettle will truly be tested.