HUNSLET RLFC have pulled off a major coup by signing one of the leading players in amateur Rugby League.
Danny Rowse – an established BARLA international and a key figure in recent years with Kingstone Press National Conference League giants Hunslet Club Parkside and, previously, with Lock Lane – has switched to the South Leeds Stadium on a one-year deal.
And the fact that by turning professional he has ruled himself out of contention for BARLA's tour next year to the Southern Hemisphere says everything about how he rates Hunslet's prospects in Betfred League 1.
The halfback, whose long list of awards includes recognition as the National Conference League's Player of the Year a few seasons ago, is the son of the highly respected Martin Rowse – himself a former Hunslet player – who has been his coach at Lock Lane and Hunslet Club Parkside.
Hunslet Club Parkside, with Danny Rowse a highly effective lynchpin, achieved successive promotions in the Kingstone Press National Conference League before clinching the Premier Division title in 2018 with a 100 per cent winning record.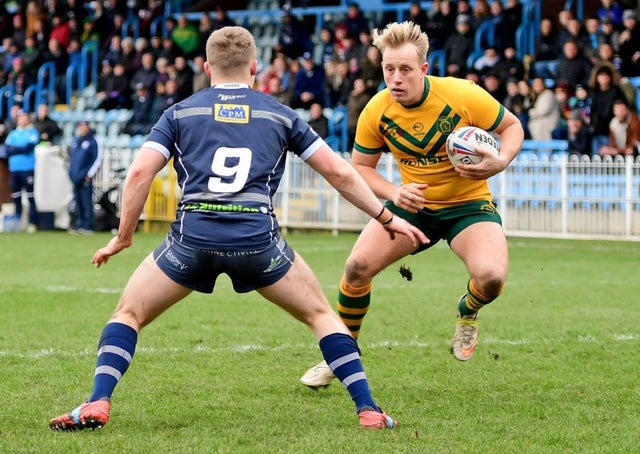 Rowse, who is sponsored by Andrew Beadnall, will hit 30 years of age towards the end of January and said: "I've had offers to turn pro over the years but I've always turned them down. Either they didn't tie in with my work or they were in Lancashire, which was too far away for me.
"But the vibes when I spoke to Hunslet's Head Coach Gary Thornton and Football Manager Darren Williams made me think that the time's now right.
"They were so enthusiastic and as a local lad I know that this is a great club with a tremendous history.
"I couldn't help getting excited about what they are trying to achieve and it also helps that I don't live too far away; everything has fallen into place."
Hunslet have already signed two highly rated halfbacks in Dom Brambani, from Batley, and Simon Brown, who is back at the club from Dewsbury. Thornton, though, stressed: "We now have three genuine contenders for the two halfback spots.
"After a glittering career in the amateur game Danny has taken the decision to test himself at the higher level. He has been an integral part of a very successful Old Boys (Hunslet Club Parkside) set-up for some time now, and a BARLA representative at various levels.
"We have been interested in him for a while but felt the decision to turn professional had to be his – and I'm delighted he has taken that decision now.
"He is well-renowned in the highest levels of the amateur game and has all the tools needed by a quality halfback in League 1, with a great kicking game and good decision-making – and he is a very knowledgeable player too.
"He has come into our environment and fitted straight in with the group. He understands the systems we are trying to employ and has thrown everything into pre-season. I really hope that Danny's progression is a successful one that benefits us and him personally; he is a huge addition to our squad.
"Rowse added: "I'm pretty vocal on the pitch, I like to think that I've a good kicking game and I really enjoy defending.
"I've been on a few BARLA tours and there's a chance I could have been on the next one but joining Hunslet gives me a fresh challenge, and my goal now is to help us to achieve promotion into the Championship."
He continued: "I've been lucky to have played under some good coaches. BARLA coach Paul Crarey, who is now with Barrow of course, taught me a lot, including how to read a game, and my dad has obviously had a massive input into my development.
"I'm used to the big match atmosphere, and to pressure, from my years at Lock Lane and with Hunslet Club Parkside. The enthusiasm in that side was massive and it's a similar feeling at Hunslet. We won the NCL title partly through belief and I can see that there's a similar ethos at the South Leeds Stadium."
The step from the NCL to League 1 doesn't daunt a player who is regarded throughout Rugby League as a class act. He said: "We were a good team at Hunslet Club Parkside and gave Hunslet a surprise when we beat them in a pre-season friendly a couple of years ago.
"Hunslet turned the tables the following season, though, which is as it should be when a professional side takes on an amateur team; they were too fast for us, physically and mentally.
"League 1 sides generally have the edge over amateur outfits, even the top ones, partly because they train four times a week. Professional players can't miss training just because they don't feel like it, whereas you can't quite expect that commitment at amateur level, even in the NCL."
He concluded: "It's good to at last turn professional. Sometimes you can start to doubt yourself a bit, and wonder why you're not being asked. A lot of it might boil down to being in the right place at the right time, and now the opportunity's come I aim to grab it with both hands.
"I may be missing out on the chance of a BARLA tour but I'm really looking forward to helping Hunslet hopefully gain promotion, and if the spirit at the South Leeds Stadium is anything to go by we'll challenge strongly.
"There's a lot of great banter within the squad, and new players are made really welcome.
"It's obviously been a bit of a wrench to leave Hunslet Club Parkside but my dad has always said that I should try to play at the highest level I can. On that basis it's time to move on, and I know that my dad will certainly be giving me his every support."