Hunslet's Sixth successive win was an impressive start to a make-or-break period for the south Leeds club.
Hunslet ended Oldham's eight-match winning run with a 16-12 victory two days ago. They remain fourth in Betfred League One, but are now level on points with third-placed Oldham.
The Parksiders visit North Wales Crusaders on Sunday and are away to Workington Town, who are fifth, the following week. They then play host to leaders Bradford Bulls before two fixtures against teams snapping at their heels, Doncaster (home) and Keighley Cougars (away).
"We've got a tough period coming up, but we have picked up some decent form," said Hunslet coach Gary Thornton.
"The next five games are really important, but we can only go one game at a time."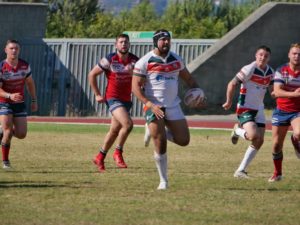 Hunslet trailed 12-6 at half-time against Oldham and Thornton reflected: "It was a good game between two good teams.
"It could have gone either way and maybe a draw would have been a fair result, but we'll take the win all day long.
"We went behind again, which seems to be a theme for us, but we kept them scoreless in the second half and scored 10 points ourselves.
"We defended very well on our own tryline and it was a good performance and really pleasing to get the win."
Thornton felt prop Zac Braham "shone" for his side and half-back Cain Southernwood, winger Tom Ashton, and forwards Lewis Reid and Matty Nicholson also stood out.
Nicholson is Hunslet's only injury concern with a recurrence of a hip problem.